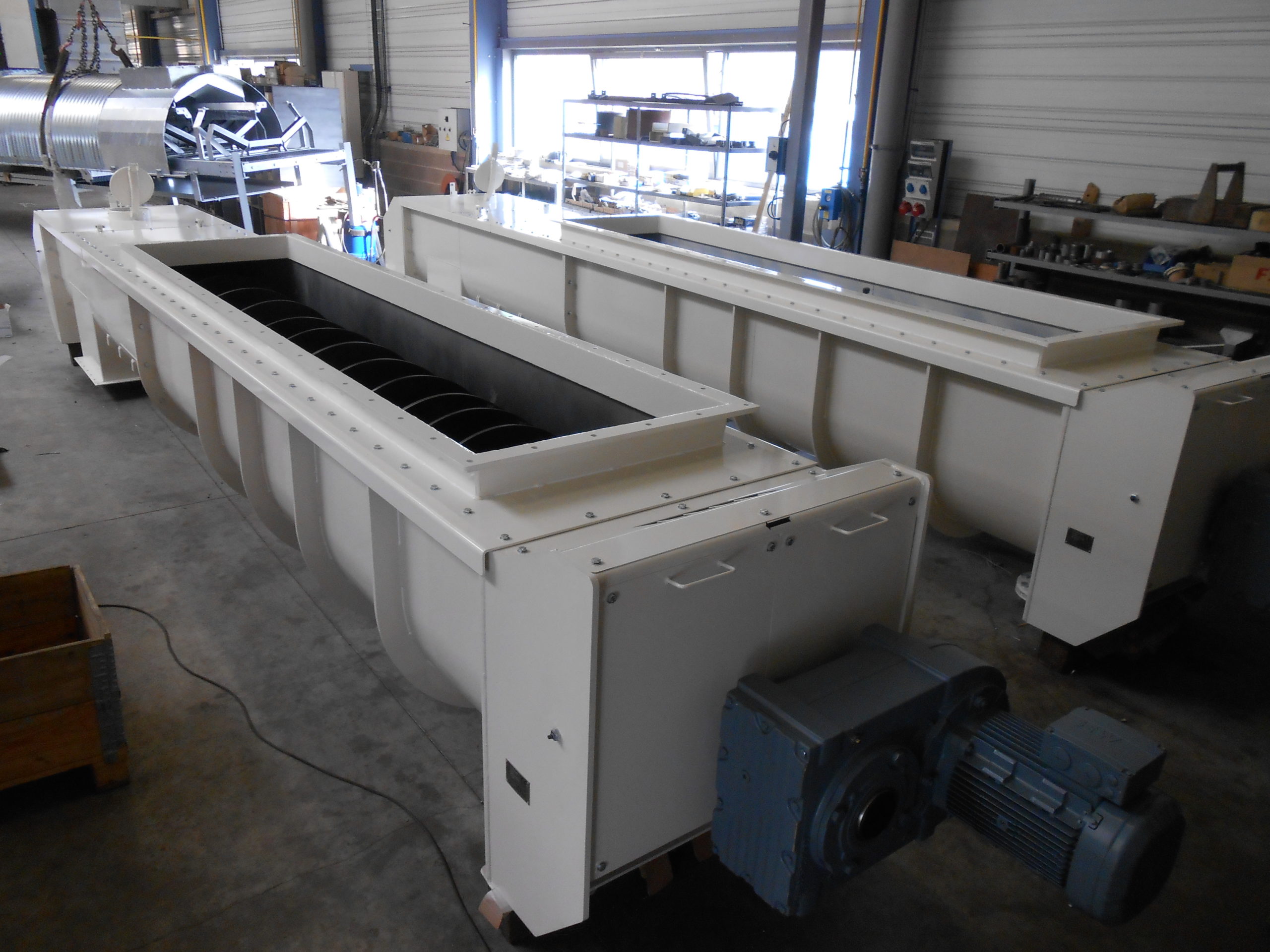 What is a screw conveyor?
A screw conveyor is designed to carry, extract and dose dry, non-volatile bulk products. It is available with numerous options and variants to suit the product typology and working environment.
An Archimedean screw is a conveying system that consists of a central rotor supported by a bearing at each end. Spiral blades are welded on the rotor, and intermediate bearings can be installed, depending on the length of the conveyor. A screw conveyor can be made up of a tubular or trough enclosure, and feature, as required, a rotor with a continuous screw, a ribbon screw, paddle blades or a coreless screw.
An Archimedean "screw" is actually a helical screw, as opposed to "worm screws", which are threaded rods similar to screws. The helix of the Archimedean screw rotates on its axis without moving forwards or backwards, and the particular shape of the spiral blades causes any form of liquid or solid to move along the axis. The principle is thought to have been invented by Archimedes in Egypt, and was originally designed to pump water from the Nile. However, this ingenious technique means that the Archimedes screw is still widely used today. It comes in the form of a screw with or without a core, depending on what it is used for, especially in the food industry or in the environment (e.g. water treatment), because thanks to the spiral blades welded onto the rotor, the Archimedes screw can be used to easily move all kinds of dry or liquid bulk products with minimal space requirements.
Nos quatre principaux types de convoyeur :
SERVA designs and manufactures bespoke screw conveyors based on the Archimedean screw technique to suit individual requirements and provide solutions for carrying, extracting or dosing bulk products.
A little bit of History
The Archimedean screw conveyor is an integral part of a material processing line and must be considered in the same way as any other component. Its age and shape (which has remained virtually unchanged for 150 years) and the lack of technological innovation from which it can benefit all too often make it an ancillary piece of equipment, when in fact, it is the core of a high-performance installation and directly impacts smooth operation of the entire line.
Archimedean screw conveyors
The basic function of an Archimedean screw conveyor is to carry a product in powder or granular form linearly in a material processing line. If the screw can easily extract a product from underneath a storage system, there will be only a few specific cases in which it can dose, mix… reliably and accurately. Combining the carrying, dosing and mixing functions in the same device is generally not recommended: this economically attractive all-in-one solution may suffer from many problems during operation.
The advantages of an Archimedean screw conveyor
Simple and compact
It is easy to incorporate into any new or existing installation
It is clean, non-polluting and can easily transport sensitive, toxic or corrosive products both indoors and outdoors
Large choice of outputs
Economical to maintain, easy to modify and adapt
Simple construction using stainless steel, coated steel or abrasion-resistant steel
Improved seal with dust contained throughout the entire conveying process.
3 possible functions:
Extraction: the conveyor sets the output at ±10%;

Dosing/weighing: the conveyor can determine a quantity of carried product in terms of volume or weight;

Carrying: the conveyor collects the product as it arrives and its load factor is a result of the output from the upstream conveyor.
Range of our products:
→ Output: 1 to 400m3/h
→ Length: 0.5 to 60m
→ Diameter: 60 mm to 2000mm


Tubular screw conveyors are specially designed to carry and dose dry, non-volatile bulk products. They take the form of a closed tube inside which a worm screw rotates: an Archimedean screw. Because they are sealed, they limit dust emissions. These conveyors are simpler items of equipment than trough conveyors. They can be installed at steeper slopes and hence take up less room for a given output.
→ Length: Up to 20m
→ Diameter: Up to 800mm
Trough screw conveyors are especially well suited to carrying dry, powdery or fouling bulk products, such as beet pulp or organic waste, etc. Trough conveyors are the easiest to repair and therefore to maintain. They are mainly used in industries with high production level requirements, in which it is important to keep the installation running continuously. The covers on this type of conveyor can be dismantled or removed, providing easy access to its internal components. They also enable rotor replacement from above and not via the end, thus reducing the space required and facilitating maintenance.
→ Output: 1 to 800m3/h
→ Length: Up to 60m
→ Diameter: Up to 2,000mm
Possible options and variants:
Advantages
Possibilities of fitting several inlets and outlets
ATEX-compatible designs and projects
Designs in accordance with different food standards
Screw bed for extractor without hopper
Precise volumetric dosing
Dynamic weighing ±3%
Vertical screw
Anti-abrasion material (such as Creusabro or coated sheet steel)
Robotic hard-facing solution for rotors to lengthen service life
Different types of screw used:
Normal continuous screw
Coreless screw
Toothed screw
"Threaded" extractor screw
Others: secant blade shafts for extractors, twin-screw mixing shafts
4 possible functions:
Extraction
Carrying
Dosing
Mixing by secant rotors